*this review is by no means 'original' and comprehensive on its own. It is a compilation of my experiences with this lens alongside other user reviews and images from other forums / internet sites.
image from dpreview
I bought this lens in May this year and I am extremely happy with it. This is a high performance Olympus lens with a 4x zoom range of 50-200mm (100-400mm equivalent) and bright f2.8-3.5 aperture. It forms part of the Olympus pro lens range (splashproof) which consists of the
* ZUIKO DIGITAL 11-22mm (22-44mm) 1:2.8-3.5
* New! ZUIKO DIGITAL ED 12-60mm (24-120mm) 1:2.8-4.0 SWD
* ZUIKO DIGITAL 14-54mm (28-108mm) 1:2.8-3.5
* New! ZUIKO DIGITAL ED 50-200mm (100-400mm) 1:2.8-3.5 SWD
* ZUIKO DIGITAL ED 8mm (16mm) 1:3.5 Fisheye
* ZUIKO DIGITAL ED 50mm (100mm) Macro 1:2.0
this is a view of the lens compared to its older non-SWD predecessor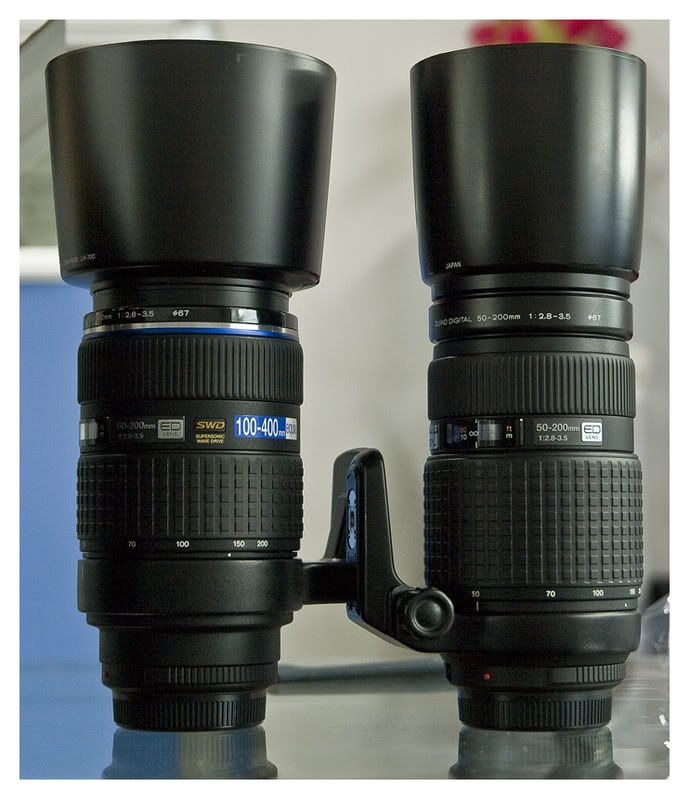 image from clubsnap.com
compared to 12-60swd:
Several questions that you would naturally ask are:
Why should I buy this lens when the 40-150 kit lens is almost $800 cheaper?
OR
Why should i consider this lens if i have the old 50-200 model?
To make a reasoned opinion, we must consider several features of this lens. The lens has a:
# Supersonic Wave Drive AF system: Ultra-fast AF speeds
2x faster than current 50-200mm lens
Albeit not as 'quick' as the 12-60SWD (it has the 'world's fastest AF' when mounted on an E-3), this lens is no slouch (its comparable to the AF speeds of the 12-60 review). It focuses silently and its 2 times quicker than the older version (very useful for action / wildlife photography)
This is a user's comparison on fourthirdsphoto.com regarding autofocus speeds of both lenses -
"I owned a 50-200 non-swd and used it on about 3 occasions with about 100 shots taken. I currently use the swd version and used it on 2 occasions with about 200 shots taken. I can attest to Oly's statement on the 50-200 swd product webpage that the swd version is twice as fast in focusing than the non-swd version.

Additional advantages of the swd include quiet focusing, full-time manual focus (mechanical feel) overide, and supposedly better focusing accuracy due to smaller focusing steps and better focus motor stopping ability (maybe only applies when mounted on E-3)"
These are my versions of 'action photography' - my friend was coming down at me on a flying fox at high speed. the SWD motor on the lens helped me create some amazing shots (i apologise if they look 'amateurish'), which cannot be attained using the 40-150 kit lenses.
# 4x zoom
imagine having a reach of 100-400mm on a lens which weighs only 1kg!
closest Canon is the 70-200mm f/2.8 IS but doesn't have the reach only being 112-320mm effective.

Of course I'm not comparing this lens to the zuiko 70-300 (140-600mm equivalent) - it has a longer reach, but smaller aperture, no SWD motor, no weather sealing for the budget conscious user)
some wildlife images @ 200mm
i'm amazed at the amount of texture on the elephant's skin. It has a 3-d like appearance.
the zoom range of the lens can be expanded using the 1.4 or 2.0x teleconverters, at the expense of 1 and 2 stops of light respectively. Teleconverters aren't recommended for the zuiko 70-300 because of its existent slow aperture.
the 1.4x TC then gives you a full frame telephoto reach of a 140-560mm f/3.9-4.9 lens.
the 2x TC gives you a 35mm equiv. telephoto reach of a 200-800mm f/5.6-7.0 lens - still very usable although you might be considering a tripod or monopod at the longer end.
Despite not having Image stabilisation / vibration reduction built into the lens, the E-510, 520 and E-3 bodies have inbuilt IS to produce sharp images, which is important for longer lenses.
other comparisons:
i
ts cheaper
(not comparing the sigma / tamron equivalents)
zuiko 50-200SWd - circa us $1000, us $800 used.
canon 70-200 f2.8IS USM - $1700
Nikon 70-200 AF-S VR f2.8 G - $1625
its lighter
zuiko 50-200SWd - .95 kg
canon 70-200 f2.8IS USM - 1.57 kg
Nikon 70-200 AF-S VR f2.8 G - 1.47kg
okay, its not as light as the 40-150 kit, but for the image quality, I'm not complaining!
its smaller
zuiko 50-200SWd -86.5 x 157mm length
canon 70-200 f2.8IS USM - 86.2 mm diameter x 197 mm length
Nikon 70-200 AF-S VR f2.8 G - 87mm diameter x 215mm length
# Splashproof
It depends how concerned you are about this issue, but its definitely an advantage. I managed to take some great shots when its drizzling. Cameras / lenses are more susceptible to moisture than you think (especially the standard grade zuiko lenses which have no weathersealing). Heck, you could probably use this lens in a blizzard, hurricane, or a desert storm if you really wanted to!
I took this image when it was drizzling lightly one morning in Melbourne
The canon and nikon 70-200 2.8 are also weatherproof, but this lens is cheaper
Regarding the lens's build quality, it is similar to the 12-60 as stated in Gordon's review on this site:
"The build and mechanical quality is excellent – roughly equivalent to models like the Zuiko Digital 7-14mm. The 12-60mm is both dust and splash proof with a rubber sealing around the edge of its metal lens mount – for full weather-sealing though you'll also need a suitably equipped body like the E-3."
# 1.2m closest focusing distance (without extension tubes)
canon 70-200 f2.8IS USM - 1.4m
Nikon 70-200 AF-S VR f2.8 G - 1.5m
This is useful for closeups, eg. flowers
the details on this image are crisp, and the bokeh is smooth and pleasing.
# Mechanical manual focusing
This lens conveniently allows full-time manual focus (mechanical feel) overide. Otherwise, you have to navigate through the menu to allow S-AF+MF or C-AF+MF (which can be inconvenient sometimes)
# Circular aperture diaphragm - for pleasing, smooth, bokeh
helps to differenciate the subject from the background. longer lenses have narrower DOF which helps to blur bokeh even more, which is good for portraits.
the larger f2.8-3.5 apertures mean that this lens is faster than the 40-150 kit lenses, meaning that i can save 1-2 lightstops (eg. using iso 400 instead of iso 800 on the kit lens, in addition to the 50mm longer reach.)
# Lens hood with slide-window for Polarising filter
I have not needed to use this feature much, because in Aussie, the skies are blue most of the time anyway.
Do I recommend this lens over the zuiko 40-150 kit, 50-200 non-swd and 70-300?
In short, if you have the funds and are investing into a fourthirds system, absolutely! Let me recap the points again:
# Supersonic Wave Drive AF system: Ultra-fast AF speeds
(2x faster than current 50-200mm lens)
# 4x zoom in a lighter, smaller, cheaper package compared to CaNikon 70-200 lenses.
# 1.2m closest focusing distance
# Mechanical manual focusing
# Lens hood with slide-window for PL filter
# Splashproof / dustproof
If you have (or planning to get) an existing 50-200 swd model, the image quality is relatively the same. Image quality tests can be found here:
http://www.slrgear.com/reviews/showproduct.php/product/38/cat/15
http://www.popphoto.com/cameralenses/4659/lens-test-olympus-zuiko-digital-50-200mm-f28-35-ed-af.html
As much as I have expounded on this post on how good this lens really is, the best way to decide whether this lens is for you is to visit your local camera shop and decide for yourself (other than what you've read from me so far). This way, you will know whether this lens fits your photography style or not, and encourage you to get it for yourself. The excellent 7-14, 12-60 SWD, and 50-200SWD lenses are what made me a believer in the Olympus / fourthirds system, and i am fortunately a proud owner of these lenses
The only other lenses above the 50-200 swd in the Zuiko range are the $5000 90-250 f 2.8 and $2000 35-100 f2. They are totally different class of their own. Here is an image of my pals testing the 90-250 lens after borrowing it from a camera shop. But until I get my hands on the lens myself, it remains an enigma to me.
Comments are welcome.
Cheers,
brandon