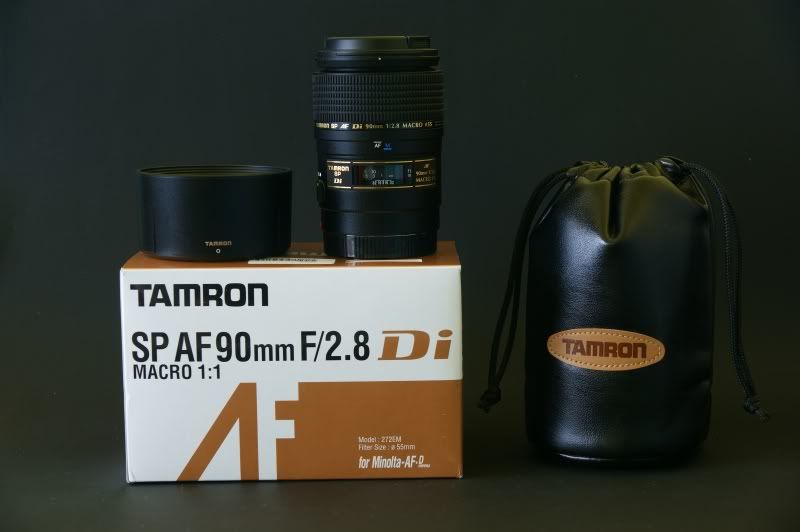 The lens comes supplied with a hood and carrying case.
The front section extends as the focus is set closer. It extends quite a bit but does not rotate. Given the length of the lens for close focusing, I never tried using the hood.
The focus ring has a long travel distance, taking around 3/4 of a rotation to go end to end. It is relatively easy for manual focus. The focus ring is large and easy to grip. It has two mechanical positions, for manual or auto focus. Pushed forward to AF position, it is disengaged from the focus mechanism and freely rotates. Pulled back for MF, it is engaged and adjusts the focus. On the Sony A350, this should be set to match the camera setting otherwise the ring can rotate during AF.
On the body is a focus lock switch. This limits the range to help speed up focus. The overall speed is not super fast, but not excessively slow either.
Looking at the end of the lens, you see a deep recess before you get the front glass element.
Ok, enough of the physical features, what is it like in actual use?
The lens is fairly bright at f/2.8, but at close range this results in a wafer thin depth of field. Careful focus is needed.
On static subjects, it works pretty much like any other lens. Only when trying to shoot a moving target does it get a little more difficult. I found using autofocus to be frustrating, as movement of the subject or aiming causes a seek, which may or may not be successful and takes up a bit of time. So I found manual focus to be easier, as you can compensate dynamically for the subject without having to worry about where the focus lock is looking. The sensitivity of the focus ring about right, and with the decent sized grip area it is easy to hold.
As an overall verdict, I have to say this is a great lens for the money.
In following samples, click for original file straight out of the camera without further processing.
Damselfly - 3.7MB - Sony A350, Tamron 90mm macro, 1/160s, f/7.1, ISO250
Dandilion Clock - 3.1MB - Sony A350, Tamron 90mm macro, 1/400s, f/2.8, ISO100
Wasp - 4.2MB - Sony A350, Tamron 90mm macro, 1/100s, f/8, ISO400