In my
other review
I looked at some budget IR filters compared to the relatively expensive Hoya R72. Recently lighting gels has been bought to my attention as a possibly even cheaper option, but how do they perform?
At the time I bought it, the Hoya R72 in 62mm size was £35, with lesser branded ones on ebay for less than half that.
The specific lighting gels I got to try were Lee
Primary Red 106
and
Congo Blue 181
. It doesn't have to be these, as other red filters may cut out more visible, but congo blue does seem to be the most popular blue one to use. For price guidance they cost me £5 a sheet plus postage. Each sheet is HUGE. You could cut tens or even hundreds of photo filter sized circles out of one sheet.
The theory: if you look at the spectral responses in the above links, you see the primary red passes the longer wavelengths from red into infra red. The congo blue passes blue and also infra red, cutting out the mid band (greens). Stack them, the red filter should cut out the blue, and leave IR passing. The question is, how do they work, and in what combination?
Here is the test scene, in visible light. I know it is really unexciting, but I can do this without leaving my house
1/4000 ISO100
It is a quite bright sunlit day, with green plants available to reflect the IR. Note there is a slight haze to the sky so it wasn't perfect conditions for a controlled test, and there may be variations due to lighting as the shots were taken.
For the following shots, two images will be presented. First is the output "as is" from the Canon 7D jpeg, and secondly is after applying colour cast reduction (reference on the grass) and auto-contrast in photoshop. That gives a better idea what a typical process IR image could look like. I did not take particular care in getting the same white balance! So don't take too much notice to different colours between the processed samples.
All shots were taken using the 50mm f/1.8 II at f/1.8.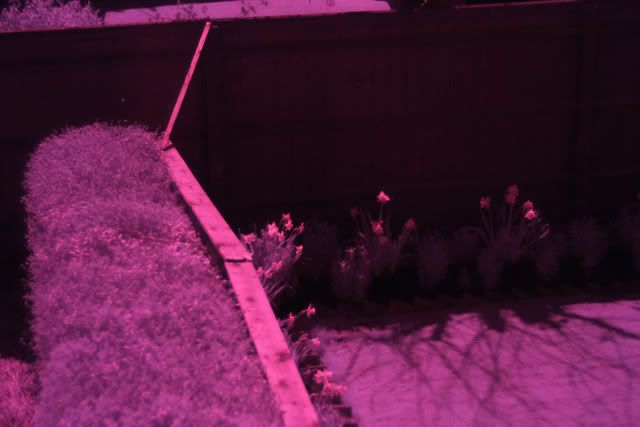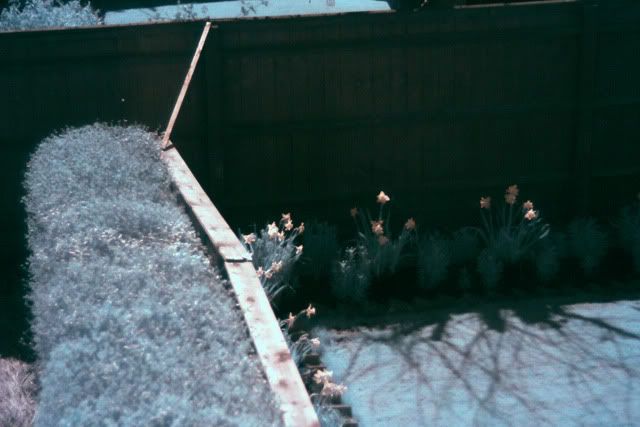 This is the legendary Hoya R72 which will be the reference.
1/8s ISO1600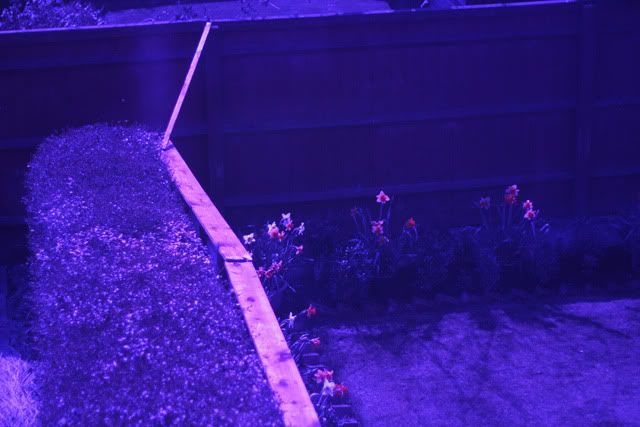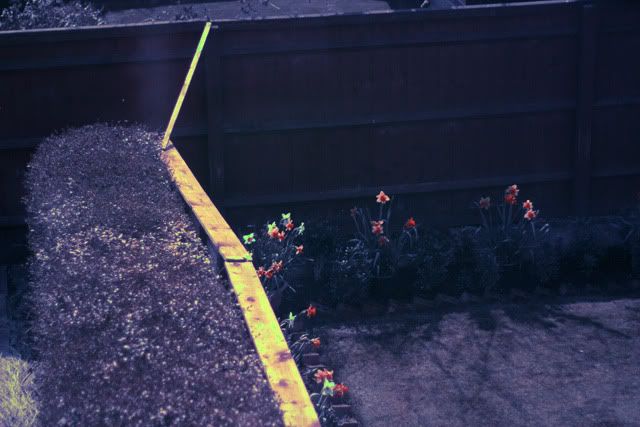 One blue
1/640 ISO800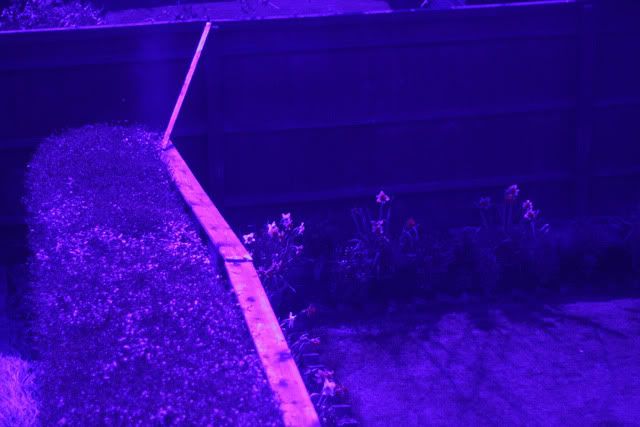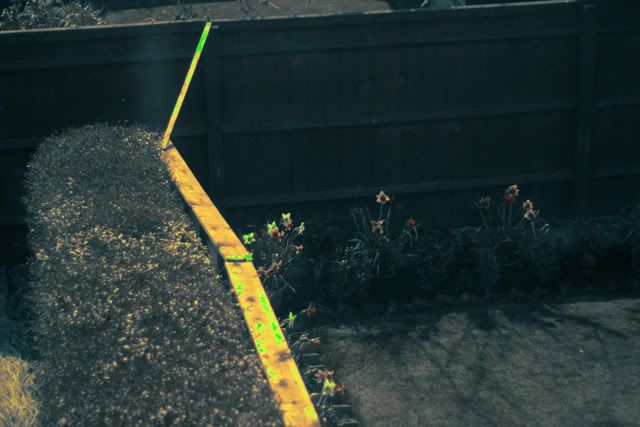 Two blue
1/80 ISO800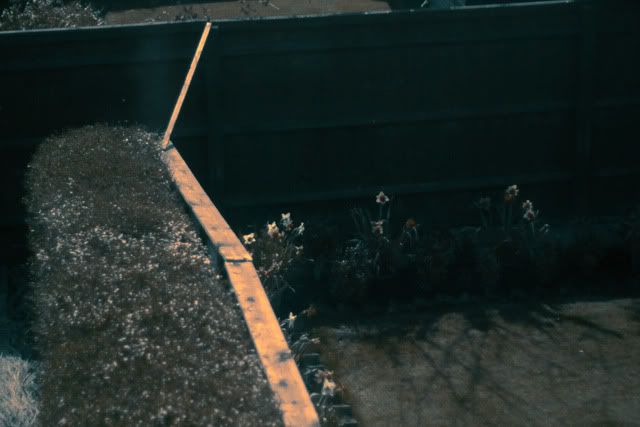 Three blue
1/50 ISO1600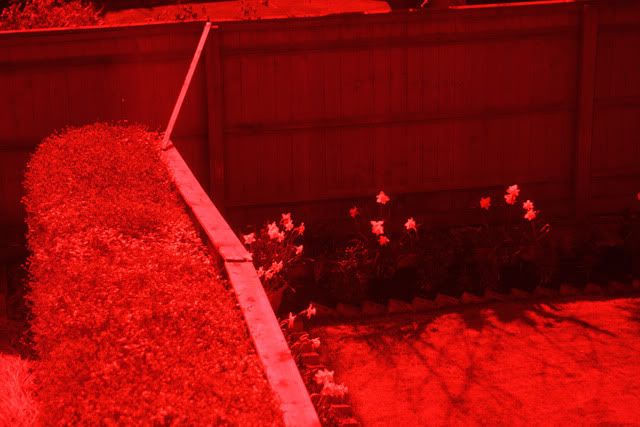 One red
1/500 ISO100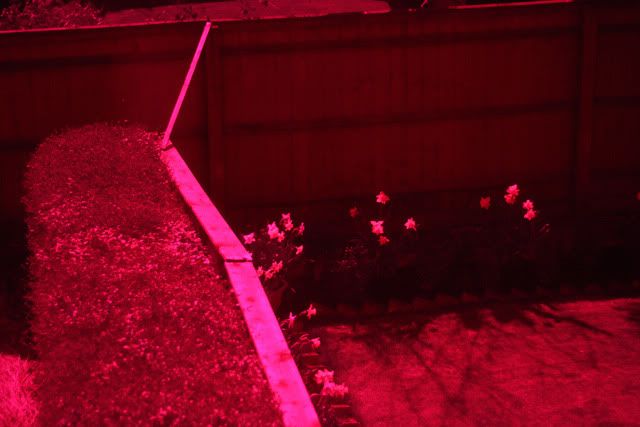 One red, one blue.
1/80 ISO1600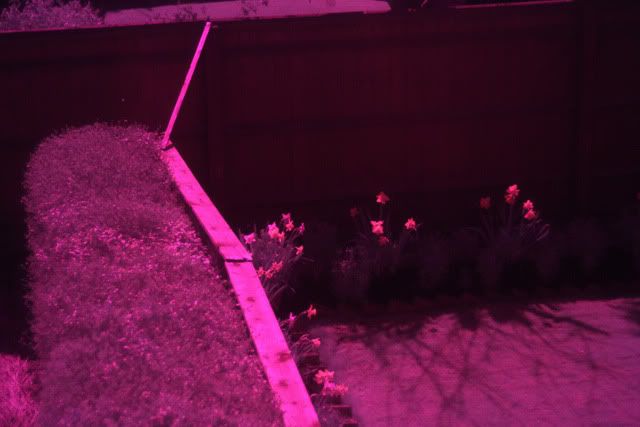 One red, two blue.
1/10 ISO1600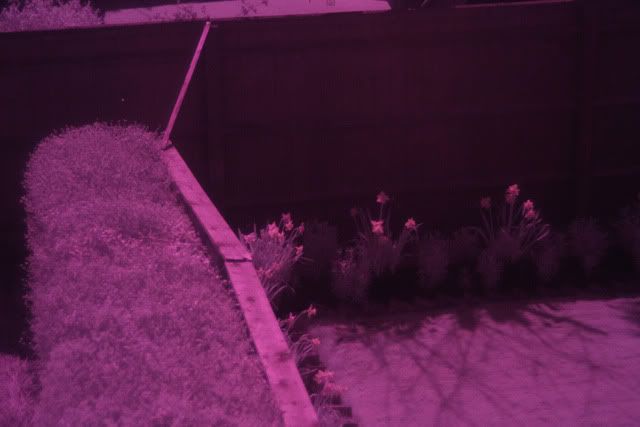 One red, three blue.
1/4 ISO1600
Hope that's of some interest. There are no hard rules when it comes to photographing IR, so you can pick the filter combination (including thoses not tried above) and processing to give the effect you want.
With the specific goal of getting a Hoya R72 like output, to me the closest ones are with one red and two or three blue filters stacked. The general colour characteristic and exposure were similar to each other there.
As a final comment, the main reason for buying this was to make "IR goggles" so you can literally walk around and see the world in IR. If you cut out enough visible light, the human eye has enough sensitivity to see IR in bright sunlight. Stacking one red with several blues gives the R72 effect, but using blue only gives a very weird "false colour" world. Blues are more or less passed as normal, but it is mixed into the IR so you get odd reds and magentas where you don't expect it. It does NOT look like the blue only photo shots above, since the camera is less sensitive to IR.